Campaigner launches film telling dementia carers 'it's okay to ask' for help
Date of article:

16-Aug-13
Article By: Laura McCardle, News Editor
A dedicated campaigner has launched a short film encouraging people who care for someone with dementia to ask for help.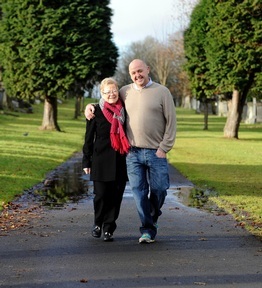 Tommy Whitelaw with his mother Joan
Tommy Whitelaw put together 'It's okay to ask' in order to reach out to carers in Glasgow and raise awareness of vital support services available in the city.
He has first-hand experience of the difficulties people face when they care for a loved one with the condition, having spent several years caring for his mother Joan after she was diagnosed with vascular dementia until she passed away in September last year.
In the film Mr Whitelaw says: "Caring for Mum was a full time occupation. It was the toughest experience of my life. For the first five years I did this almost entirely alone – yes we had friends, neighbours and family but slowly loneliness and isolation took their place, leaving us both struggling to cope.
"It wasn't until I reached absolute crisis that I found myself on the phone asking for help. It's okay to ask. It's not something we are always taught to do, we are very private people keeping private matters to ourselves but the truth is, without help it can just become unbearable."
Other carers who have found themselves in similar situations to Mr Whitelaw also share their experiences in the film, which was commissioned by NHS Greater Glasgow and Clyde, Glasgow City Council social work services, Alzheimer's Scotland and Social Care Alliance Scotland (the ALLIANCE.
Mr Whitelaw ends the short film with one final encouragement. He says: "All carers in Glasgow have a shared experience – caring for a partner, mother, father, sister or brother and sometimes a neighbour or friend. Asking for support, advice, information and training can be the key to improving your life, health and wellbeing and that of the person you look after. At the end of the day, I found out that it's okay to ask."
Speaking about the film, Ian Welsh, chief executive of the ALLIANCE, said: "Carers can often feel isolated and on their own when caring for a loved one. This short film aims to recognise the importance of the carer's voice and make them feel they are not alone."
To watch the film visit, http://www.youtube.com/watch?v=u2BAxSCcic0&feature=youtu.be.