UK care homes entering into the Olympic spirit
Older people are often the glue that keeps our communities together
Date of article: 06-Aug-12
Olympic fever has engulfed the whole nation in a wave of pride and happiness, with even the sun making its long-awaited appearance! UK care homes have well and truly embraced the spirit of the Games and are going for gold with inspiring events, fabulous stories from past and current Torch carriers and some care homes have even been holding their own Olympic Games!
An 88-year-old resident from Care UK's Whitebourne residential home in Frimley enjoyed news of the Olympic Torch's visit to Surrey. In 1948, Ernest Lowden was one of the torch bearers in the games that were set to unite the world after the horrors of World War II.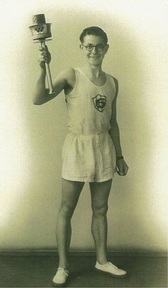 Ernest Lowden, proud Torch carrier in 1948
Aged 24, Mr Lowden was a keen distance runner living in Slough when he received a letter from the Olympic Organising Committee. He said: "They wanted me to run in the Olympic Torch relay for what was officially called the Games of the XIVth Olympiad. I was very proud to be invited and I accepted with pleasure.
"The day of the relay came. As I waited at my starting place with the torch ready to be kindled in my hand, I was feeling a mixture of emotions; nervous, excited and proud. As the moment arrived, I greeted my fellow runner, kindled the torch and began my run.
"I ran the distance with a big smile on my face, knowing the importance of the task I was carrying out. The run seemed to pass in no time at all and before I knew it, I was handing the flame over to the next runner."
Mr Lowden still has the torch he used, as well the letter from the committee and photos of himself on the relay.
Whitebourne manager Ros Stevenson said: "Ernest is a great character with a real interest in reading and current affairs. When he joined us four years ago, he told us about his Olympic run. Care UK recently held a short story competition and so our activities team worked with Ernest to capture his memories of the great day, along with the photographs and documents, as his entry to the competition.
"Getting to really know someone, their interests, their likes and dislikes, is at the heart of genuinely good care. We want to ensure residents' lives are celebrated and that their hobbies and passions are maintained through the activities they enjoy."
Mr Lowden said emotionally: "Though my running days are long gone, I will remember that moment with pride for the rest of my life."
Amesbury Abbey Nursing home participated in the run up to the Olympics and gave a warm welcome to football legend, Sir Geoff Hurst as the Torch came to town. On 11 July, Sir Geoff visited the grounds of the home to present medals to local winners of events and competitions from the last 14 months.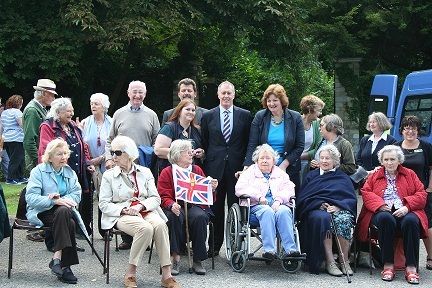 Football legend, Sir Geoff Hurst visits Amesbury Abbey Nursing Home
The celebratory initiative, 'Amesbury 2012', was created by former Mayor Andy Rhind-Tutt and a team of community spirited volunteers.
An excited group of 102 winners, including four winning football teams and 16 Soldiers from 32 Regiment RA, were presented special medals by the 1966 World Cup winning striker.
The ceremony took place in front of the magnificent Amesbury Abbey shortly before the Olympic Torch arrived in the town of Amesbury, located just a few minutes' walk away. With the help of Lt Col. Craig Palmer and 32 Regiment RA, Sir Geoff was given a welcome he will never forget.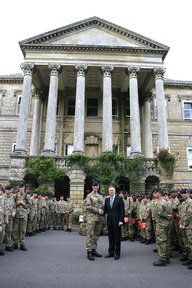 Sir Geoff Hurst with Lt Col. Craig Palmer and some of the medal winning team from 32 Regiment RA
On Tuesday 24 July, Dr Chai Patel, chairman of HC-One, the country's newest and third largest provider of residential care for older people, carried the Olympic Torch through Ealing in West London. He was cheered on enthusiastically by residents and staff of three local HC-One care homes, Birchwood Care Home, Aston Care Home and Ashford Care Home.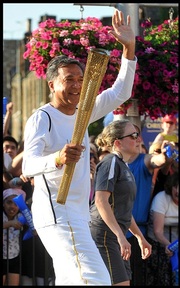 Dr Chai Patel carrying the Olympic Torch through Ealing
Dr Patel was shortlisted by the regional panel and selected by the organisers of the games to be one of the 8,000 official Olympic Torchbearers after being nominated by Team GB to carry the Olympic Torch.
After completing his leg of the Torch relay, Dr Patel was able to send the torch on its own journey around HC-One Homes to the delight of the residents who were proud to be a part of Olympic history.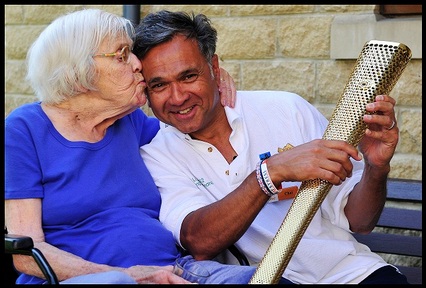 An enthusiastic care home resident greeting Dr Chai Patel and the Olympic Torch
Dr Patel has an established link with Team GB and first met the team after financing the cost of travel for young athletes going to Beijing in 2008 in order to give them support and exposure to big events. Since then Dr Patel has raised millions of pounds for Team GB and has personally donated between £500,000 and £1million.
Dr Patel has strong philanthropic values donating both money and time to various different charities including Veterans Mental Health Charity Combat Stress, Windsor Leadership Trust, (in March he paid for a two year swimming mentoring programme with former Olympian, and Gold medallist Nick Gillingham), and Bright Futures, Dr Patel's family trust through which they donate to other charities including the British Olympic Association.
Dr Patel said: "I can't express how proud I am to have been asked to carry the Olympic Torch in the final days before the Olympics start. Since 2005 when London won the bid to hold the 2012 Olympics I have been excited for the opportunities it brings to our country and our Olympians and Paralympians.
"It is a huge honour and I am sure will be another unforgettable experience. Since taking a role in HC-One I have had many humbling and moving days, inspired by the staff and residents. Carrying the torch is shaping up to be another such day."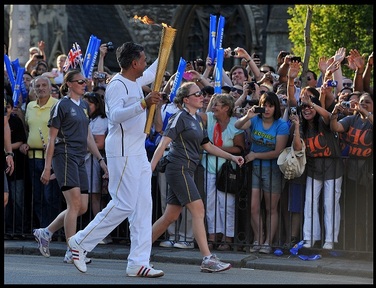 Chairman on HC-One, Dr Chai Patel carrying the Olympic Torch on Tuesday 24th July
A former Olympian, Steffen Cranmer, is excited to be attending the Olympics with the help of a Sanctuary Care Ltd home in London.
At the age of 17, Mr Cranmer was the youngest ever member selected for the British shooting team competing in the Helsinki Olympics in 1952. He also took part in the Melbourne Olympics in 1956 and Rome in 1960. In 1958 he was crowned world champion in small-bore rifle shooting in Moscow.
Mr Cranmer suffered a stroke after having heart bypass surgery in 2006, which left his mobility and speech severely impaired.
When The British Olympic Association gave him tickets to the rifle shooting finals in Woolwich, his family was unsure if he could attend without finding specialist accommodation.
After speaking to Sanctuary Care, Mr Cranmer and his wife Yvonne will be staying at Ashgreen House Nursing Home, which provides care for the elderly, in Woolwich, enabling this trip of a lifetime to happen. Steffen, who is 78 and lives in the Cotswolds, will stay at the home before travelling with eldest daughter Sarah and Yvonne to the event.
Ms Cranmer said: "We are and always have been terribly proud of my father and cannot begin to express our gratitude for the help received from Sanctuary to make this unbelievably special day possible for him.
"He can't believe he's going and is such a humble man, he can't believe he's entitled to go."
The home's acting manager Momarr Camara said: "The team at Ashgreen House are truly honoured to have Steffen and Yvonne staying with us.
"We are so proud that we have been able to help the Cranmer family and make this special day happen."
Meanwhile, residents at care homes in South Yorkshire competed against each other in their own Olympic Games.
The Sheffield Care Home Games held at the Don Valley Stadium on Thursday 26 July were organised by Activity Sheffield, Sheffield City Council and Sheffield Teaching Hospitals NHS Foundation Trust.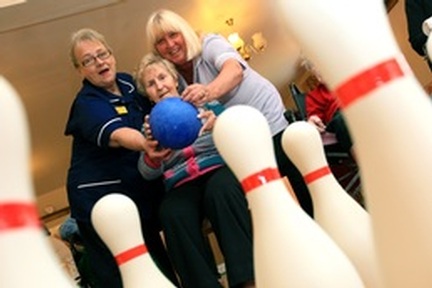 The Sheffield Care Home Games: Left to right Sandra Galloway, nurse, 74-year-old Mary Hutchinson, resident and Linda Reynolds, activities co-ordinator More than 100 carers and residents took part in the annual event where they participated in activities including bowling, skittles, mini-golf, target throwing, dominos, bar skittles and dancing.
Craegmoor's Richmond Heights Care Home, in Intake, Sheffield entered a team of three residents, aged between 74 and 84, three carers, a nurse and the daughter of one of the competitors.
Linda Reynolds, activities co-ordinator at Richmond Heights, said: "The ladies representing us this year are very competitive and they will be doing their utmost to win a medal.
"The whole home has embraced the competition and is getting into the Olympic spirit in advance of the actual Games and the participants have been practising hard.
"Just because someone lives in a care home it doesn't mean that they can't lead an active and fulfilling life and we pride ourselves on enabling residents to pursue activities both inside and outside the home."
Older people visiting day centre Methold House, in Worthing, are to benefit from £22,540 of National Lottery funding, which will pay for the installation of an outdoor gymnasium as an extension to the home's Healthy Living Centre.
The outdoor gym is made possible thanks to the £135m 'Places People Play' legacy programme and allocated via Sport England's Inspired Facilities fund, created to help communities all over England celebrate their link to the Olympic Games.
All facilities and refurbishments financed by the legacy programme will carry the London 2012 Inspire mark, with applicants asked to demonstrate how their proposals will encourage more people to enjoy sporting activities, as well as showing plans for community involvement and sustainability.
MP for East Worthing, Tim Loughton, was among those to welcome the Methold House funding, commenting: "What a great way for our older citizens to benefit from the legacy of London 2012 and congratulations to Guild Care for securing such a practical and lasting addition to the excellent facilities at Methold House. I have seen at firsthand what a difference the Healthy Living Centre is making to the lives of hundreds of older people across Worthing and this is a further ringing endorsement of the important work they are doing for my constituents."
Residents of Methold House already enjoy a wide range of popular activities thanks to the Healthy Living Centre, such as indoor bowls, Tai Chi and yoga, and Guild Care have promised specially trained tutors will visit the outdoor gym in order to help individuals make the most of the new facility.
Guild Care own three Worthing care homes and one day centre that specialise in a versatile range of nursing packages, available through combined public and private funding.
For something a bit different, but continuing the Olympic theme, an inspirational documentary film has been released following a group of pensioners as they compete in the over 80s category of the World Table Tennis Championships in Inner Mongolia.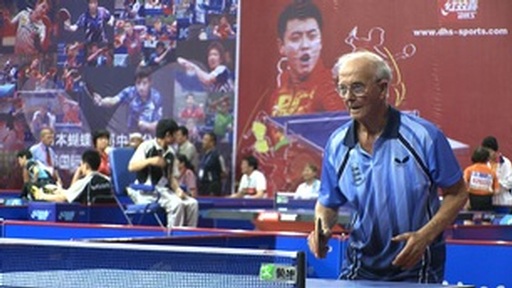 Star of Ping Pong, 89-year-old Les D'arcy, British table tennis champion
The film, "Ping Pong" is touring care homes across the country enabling everybody to watch it during the Olympic themed sporting high the nation is currently enjoying.
In this delightful film, director Hugh Hartford follows eight players from five countries, as they prepare to compete in this extraordinary, inspiring sporting event. He told carehome.co.uk: "We're really excited because this is a special film release, we aren't just playing cinemas but also at big free Olympic screens and the film will be travelling to 100s of care homes around the country, reaching audiences that can't go to the cinema.
"We premiered the film at the Brunswick Gardens Village retirement community the night before the Official European Premiere and the response was amazing. The film really seems to get people of all ages itching to play."
One of the stars of the film, 89-year-old Les D'arcy is a British table tennis champion who is looking forward to being an Olympic Torch bearer this summer. He's a seven times world champion who still weightlifts as part of his training.
He also competes in triathlon, weightlifting, shot-put and is the world record holder in hammer throw. He lives alone in Wakefield and writes and performs inspirational poetry in care homes.
Les is one of the youngsters in the film. Australian legend Dorothy DeLow is 100 and Texan Lisa Modlich is fifteen years her junior, and determined to do what it takes to win her first gold!
Inge from Germany is 89 and uses the sport to help battle her dementia. She moved herself into the dementia ward of a local nursing home 15 years ago and after discovering a table tennis table in the basement, she trained her mind and body, whilst discovering a passion for the sport.
The characters' life stories and motivation are just as inspiring as their desire to compete at table tennis at such a high level.
Ping Pong has captured everyone's hearts and imaginations with celebrities as diverse as actress, Susan Sarandon and London Mayor, Boris Johnson enthusing about the film.
Ms Sarandon said: "Who could have imagined there were people over 100-years-old with more passion and determination than most people 1/5th their age! The film is baffling, inspiring and sweet, and it's wonderful to see how ping-pong has transformed their lives."
The UK release of the film coincides with the Olympics and the EU's 'European year for active ageing' (EY2012).
By 2035, the number of over 60s in the UK is projected to increase by around 50 per cent and the number of people aged 90 and above is projected to more than triple. EY2012 aims to raise awareness about active ageing, especially in the fields of employment, participation in society and independent living of older people and to encourage stakeholders and policymakers to set commitments in these areas and take concrete action.
As well as being shown at care homes across the country, there are special launch events to run alongside Ping Pong. These include indoor and outdoor inter-generational matches in partnership with Age UK and The English Table Tennis Association.
Darius Knight, UK table tennis champion said: "I'm amazed to see people of a certain age still competing and enjoying the sport I love. If I can play table tennis to that standard in 50 years I will be shocked, it is a truly inspiring film."
Commenting on the film, Dot Gibson, general secretary of the National Pensioners Convention told carehome.co.uk: "Growing older doesn't mean giving up. Pensioners have retired from work – not from life and that's something we should remember.
"Older people are often the glue that keeps our communities together – they volunteer, they care for others and they help keep clubs and societies going that would otherwise fold.
"Our challenge is to celebrate those who are able and support those who feel isolated and excluded. Too often we have neglected to do either." The UK release date for BRITDOC and Banyak Films' Ping Pong is 6th July and for up to date screening listings please visit: www.pingpongfilm.co.uk/screenings.
In keeping with the Olympic theme of sports and keeping active, the September edition of the www.carehome.co.uk newsletter will feature the activities, dance, sports and entertainment that take place across the UK's care homes.