Tag Archives:
respite
Papworth Trust is offering free respite holidays to disabled people and their families at Kerry Farm in Wales, thanks to a £2 million grant from the Big Lottery Fund.
Typical respite is where the disabled person goes away while their family stays at home. The Trust's respite holidays are unique because they offer a chance for the whole family to together have a supported break, without the pressures of everyday life.
Luke and his mum Jane
Papworth Trust ran a pilot for this new service, shown on Channel 4 documentary The Secret Millions. 19-year-old Luke from Peterborough took part in the pilot with his parents Chris and Jane. Luke has Down's Syndrome and was quite shy at first. Since the respite holiday he has become much more independent, taking part in local amateur dramatics and setting his sights on a role in EastEnders one day.
Luke's Dad Chris saw some real changes from the respite holiday. He said: "I thought Luke was going to struggle but he just took to everything. He amazed me. I think it proved to us that Luke can do things that we didn't think he could, and perhaps sometimes we were holding him back slightly. We can now let him go that little bit more."
Mum Jane said: "It was such a benefit having more quality time together – normally Luke just has respite on his own. It's really brought the family close together. Anybody that gets the opportunity will have a fantastic time."
Adrian Bagg, Papworth Trust's Chief Executive, said: "At Papworth Trust we understand the impact disability can have. It can be hard to have quality, stress free time together as a family. Disabled people and their families can now apply for free respite holidays thanks to the Big Lottery Fund. The pilot shown in The Secret Millions was an amazing experience for the families involved. It is fantastic that Papworth Trust will now be able to offer that farm experience to disabled people of any age, wherever they come from in the UK. We're renovating a 16th century farmhouse in a beautiful part of Wales and we will be able to start welcoming families from autumn this year."
A day in the life of … a volunteer respite carer
To mark Share the Care week, Margaret Pedler wants to encourage others to sign up to help families with severely disabled children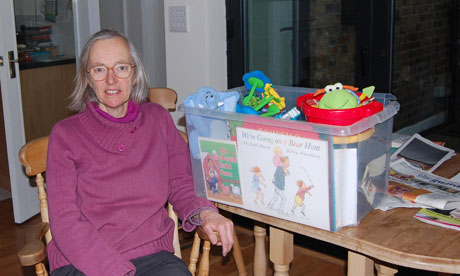 Margaret Pedler has been part of Southwark council's Family Link programme for two years. Photograph: Margaret Pedler
My husband Andy and I have been part of Southwark council's Family Link programme for two years; we spend one day a month looking after a little girl with complex physical needs.
I wanted to find a way to put my spare time to good use and work with children, but couldn't sign up to the full-time commitment of fostering. Instead I saw an advert for Family Link, which trains local volunteers to help a family stay together by offering respite care.
Looking after a disabled child is a full time, 24-hour-a-day role and can only be sustainable if parents can get respite, while knowing someone is there to allow them some time for themselves or their other children.
The application process was very comprehensive and took some time. Southwark council takes great care in gauging your ability to take on such a responsible role. People who are parents might have some experience but we don't have children, so it's not a pre-requisite.