Digital Campaign of the Week: Beating Bowel Cancer
By Gemma O'Reilly , Third Sector Online, 31 March 2011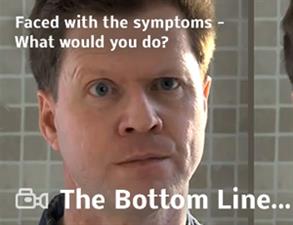 The Bottom Line
The bowel cancer charity aims to raise awareness of the symptoms of the illness
What is it?
The Bottom Line campaign is launched today to coincide with Bowel Cancer Awareness Month. Beating Bowel Cancer has filmed a three-minute video that shows a man discovering he has the symptoms of bowel cancer. The screen then splits into two and shows alternative outcomes: one in which he goes to the doctor and has treatment; another in which he ignores the symptoms and ends up in hospital.
Where can you find the film?
The film, made by Amber Pictures, will be shown on Beating Bowel Cancer's new website, which also launches today, and on YouTube. It will also be disseminated through the charity's presence on social networking sites Twitter and Facebook.
The film was funded by people who supported the charity's £3 bowel cancer challenge, which was launched last autumn. The charity challenged its supporters to raise £30 each by asking 10 friends to donate just £3 on JustGiving. 

Why has the campaign been launched? 
Beating Bowel Cancer is releasing new data that shows the alarming lack of awareness of symptoms of the UK's second-biggest cancer killer, particularly prevalent among men. With more than half of men claiming not to be able to name any of the symptoms of bowel cancer, this film shows the devastating impact that ignoring the symptoms has on its central character.
Third Sector verdict:
The  split screen, reminiscent of the films Sliding Doors, is an idea that will no doubt affect viewers by making the consequences of ignoring symptoms all too clear. By using multiple social media channels, the campaign will be able to reach a wider audience and consequently more people will learn about the symptons of this illness.
 http://www.thirdsector.co.uk/news/1063332/Digital-Campaign-Week-Beating-Bowel-Cancer/