Category Archives:
learning difficulties
Carers of children with disabilities need respite
Closing short breaks units will pile even more pressure on the already stressed parents of disabled children
Monday 6 June 2011 15.34 BST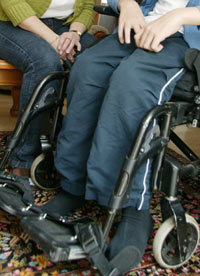 Families with disabled children are feeling the impact of cuts. Photograph: Frank Baron for the Guardian
This month, Lancashire county council will start to consult parents of children with disabilities about plans to close some of the county's short breaks units (once called respite). The units give parents much-needed breaks from caring, and children a chance to socialise.
The plans to close units could impact on families such as Colin and Jennifer Dalley's. They have three daughters with learning disabilities and behavioural problems, all needing supervision and support. The youngest, Kirsty, 11, needs constant care and monitoring, because she has severe epilepsy. She has an adapted bed and bathroom.